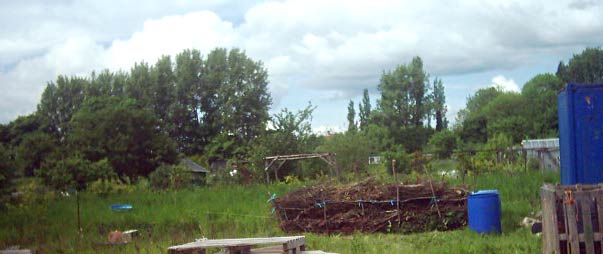 June 2005: We collect significant amounts of woody material that is really unsuitable for composting as it's too large. Hull City Council helped us earlier this year by removing the waste for shredding and use in their parks and gardens. However, the woody waste is a permanent part of what we collect, so we need a self-sufficient solution, and preferably an ecologically-friendly one.
We tried (1) storing the waste on site, and we tried (2) taking it straight to the recycling depot at Wilmington. Neither method was satisfactory. The stockpile on the allotment grew and grew, and the conditions at Wilmington proved very uncongenial.
We needed a third way - and we found it! The June issue of Gardening Which (www.which.net/gardeningwhich) explained the idea of a "dead hedge" - used to protect coppices of young trees from deer and cattle. Dead hedges are also great wildlife habitats - dry at the top (spiders, birds) and damp at the base (beetles, frogs and toads), plus eventually lichens and fungi will grow on the wood.
The photo above shows the results of about an hour and a half's work by 2 people. We have got rid of the backlog of woody material from the site, and are ready to extend the hedge week by week as more material is collected.
There are lots of sites with information about dead hedge activity. We give a short list below.
Read more about dead hedges:
The first record of a hedge in England - 547 AD

The BTCV website

Contributors to the Channel 4 Great Garden Challenge

The Planting of the Penny Hedge in Whitby: